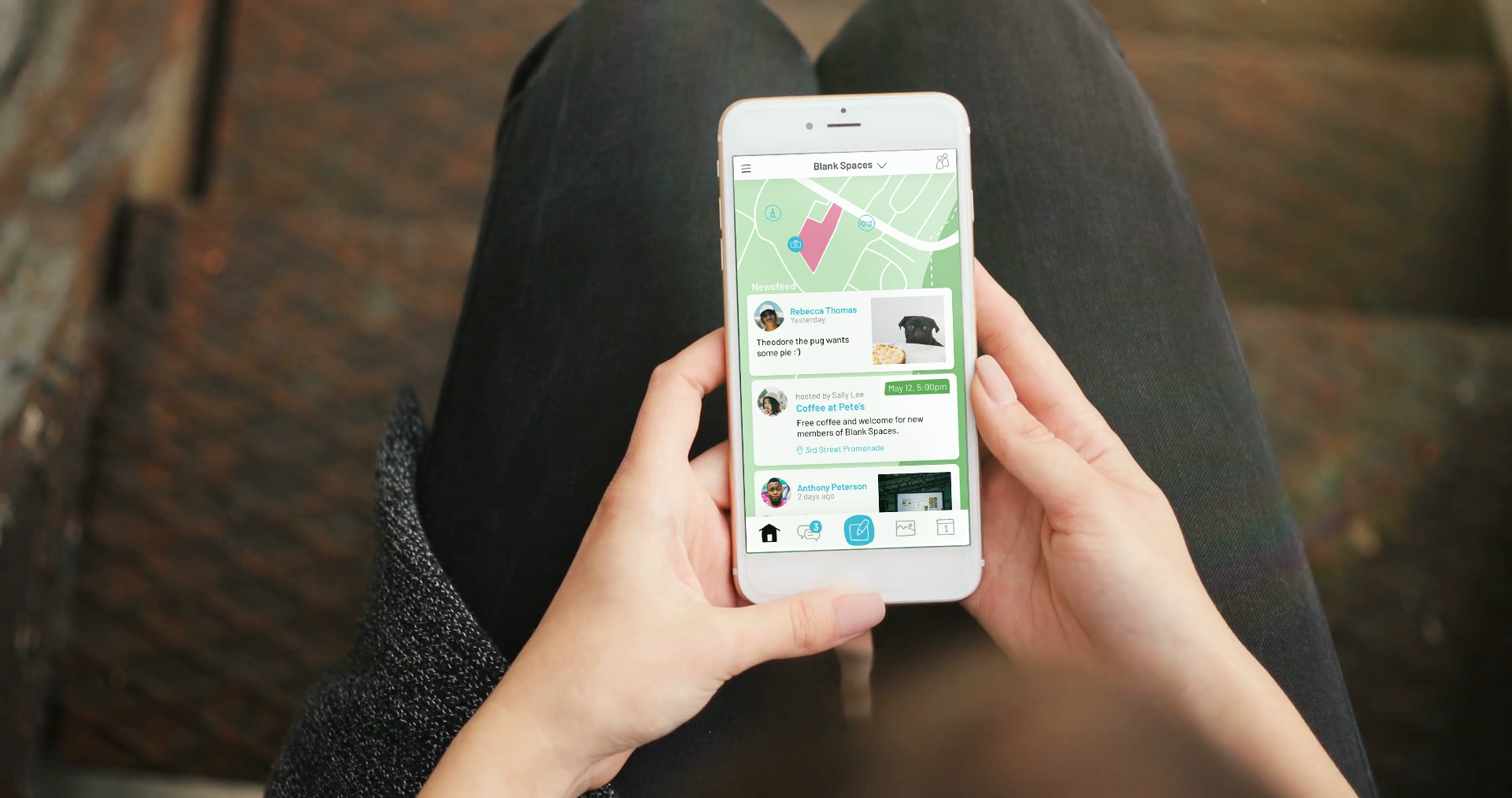 Bailiwik is a digital platform created by Dan Greaney that helps you create place-based communities for interaction with people around you both online and offline. Our social lives are being dominated more and more by digital spaces, real-life engagement growing weaker as eyes are glued tighter to our screens. Dan's vision for Bailiwik is to use the phenomenon of online social media to encourage rather than discourage physical communities and interaction between people who frequently are around one another but don't necessarily engage in conversation, such as in neighborhoods, gyms, cafes, or co-working spaces. 
Under the guidance of art director Levi Brooks, I updated the visual style guide to a modern aesthetic and worked with Rishabh Aggarwal to design a mobile experience for Bailiwik.
The grand vision for Bailiwik is to be used by all kinds of people, but in building the design of this initial MVP, we decided to first focus on a specific target audience in order to help narrow down functionalities. We ended up defining the target audience as "professionals mostly in their 30s and 40s regularly working in co-working spaces." This was based on the current user base of Bailiwik's web platform, the most successful use of the platform being Blank Spaces, a co-working space in Santa Monica. 
Interviewing different users in Blank Spaces, we found the following primary issues with the current web platform: 
     1. Confusing and cluttered interface where many functionalities of the platform are hard to access and find.
     2. Only a handful of members in the Blank Spaces Bailiwik are actually active + responsive on the platform.
Through a new and updated mobile platform, we hoped to increase use through easier accessibility and notifications via phone. To first decide what functionalities were needed within the mobile platform, we addressed the following questions:
     1. How do people discover content?
     2. How do we encourage users to more actively post and engage with other users?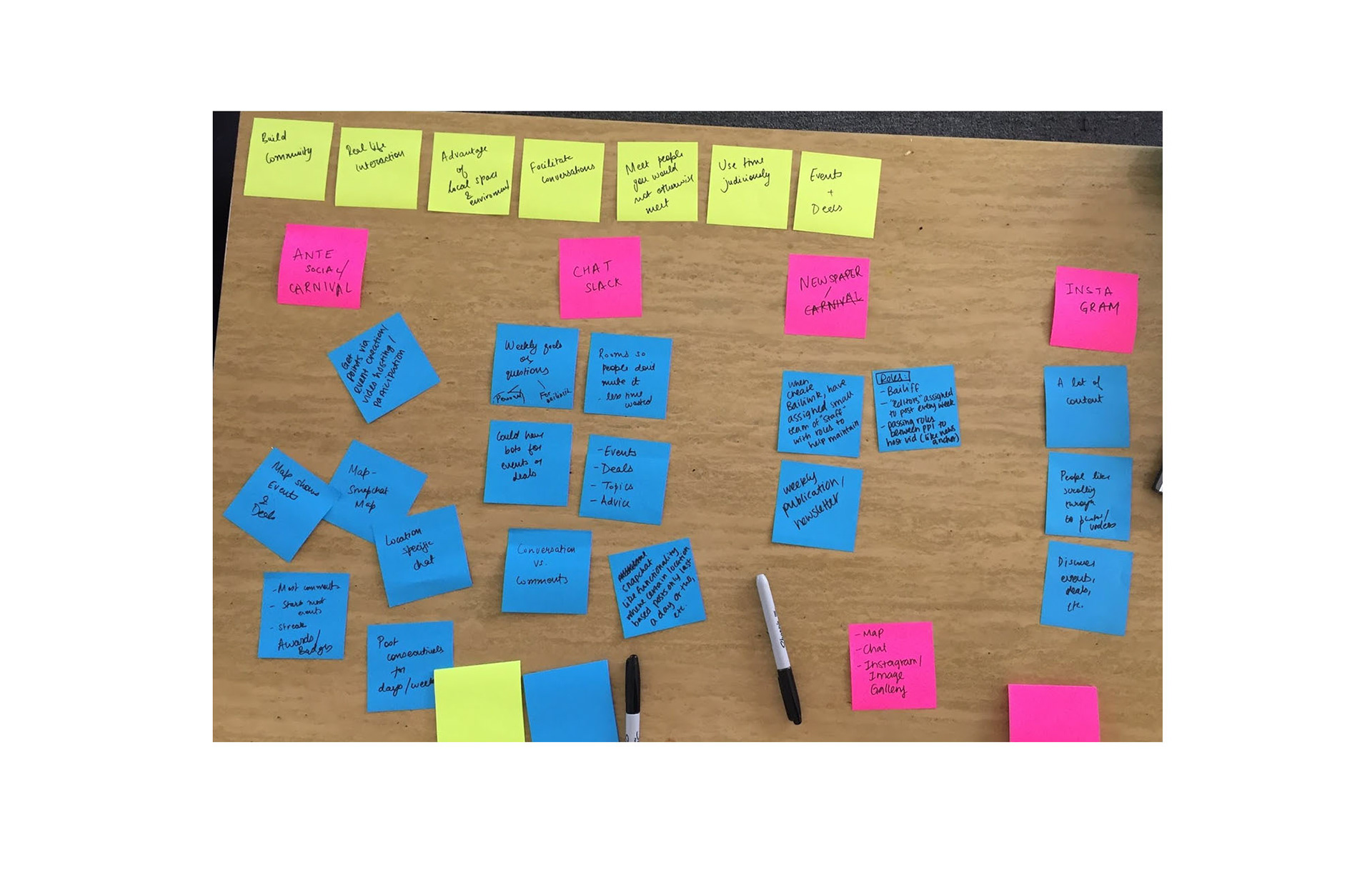 To start, we researched strengths and drawbacks of social media competitors such as Instagram, Slack, Facebook, and Nextdoor, as well as brainstormed ways we could add new elements to enhance user engagement. Ultimately, we found a merging of different functionalities could work best in providing different methods of interaction between users. We narrowed it down to five main tabs addressing different focuses of the app, from digital to physical interaction between users.  
​​​​​​​         -      PHOTO: Instagram-like function, low barrier way to post and see what other people are up to.
​​​​​​​         -      CHAT: For more personal communication and interaction between users.
​​​​​​​         -      EVENTS: To encourage creation of physical community and meet ups.
​​​​​​​         -      MAP: Visualizing physical location based aspect of the app and serving as main hub or newsfeed for updates. 
​​​​​​​         -      MEMBER'S DIRECTORY: Easy accessibility to contact or discover other members within the Bailiwik.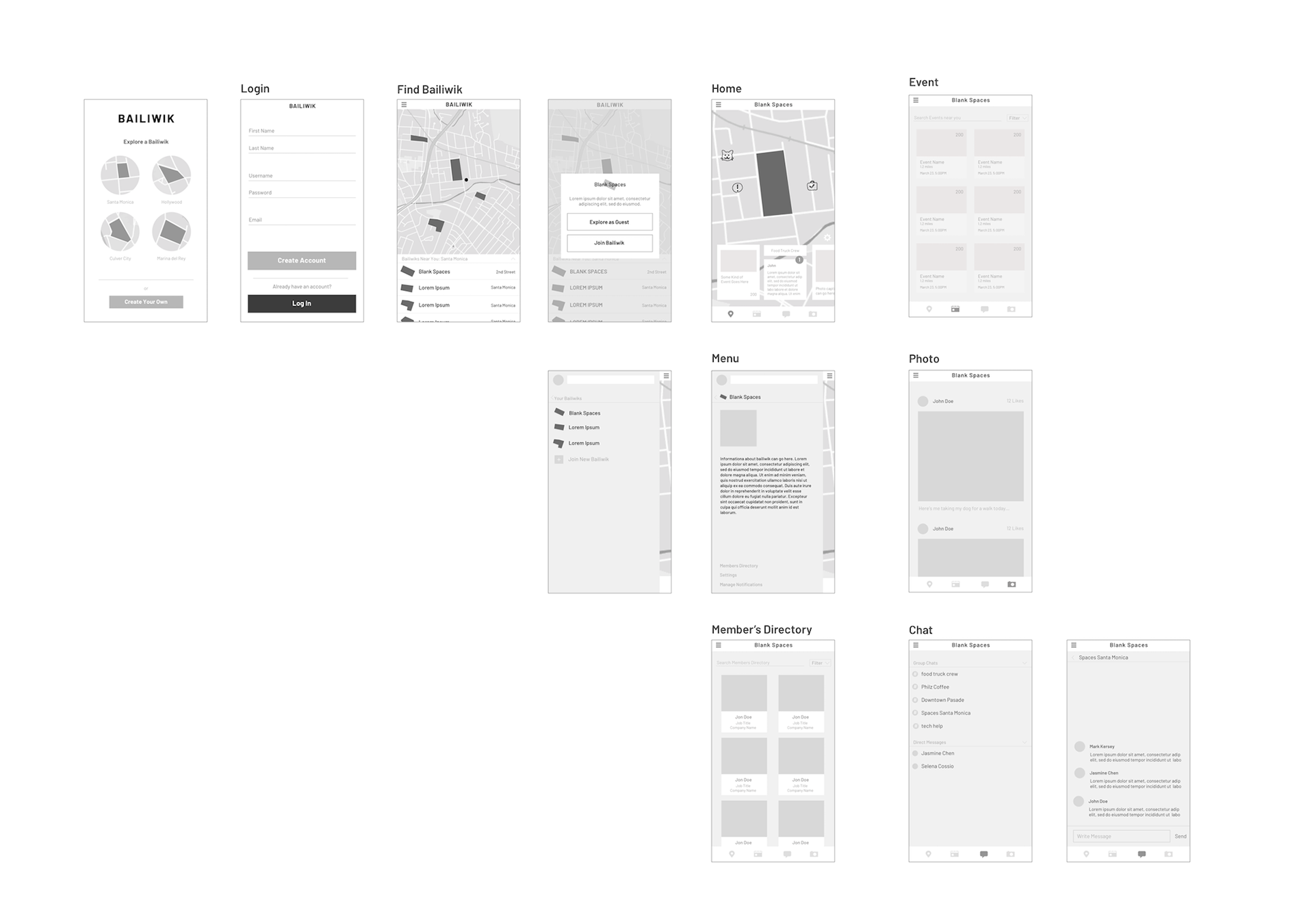 Discussing the visual style of Bailiwik, Dan was especially drawn towards a handdrawn, playful aesthetic using colors of the Bailiwik logo, while also maintaining minimalist, clean layouts that are intuitive for user navigation. The handdrawn visual style aims to set Bailiwik apart from the clean-cut digital design that dominates our time and age, aiming to humanize the digital platform and emote a warmer, welcoming mood.  Barlow was chosen as the main font with its lighthearted long, rounded letters and edges, as well as easy readability.